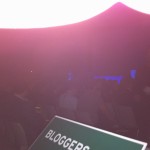 Gegenüber der Veranstaltung in den vergangenen Jahren in Cannes muss man sagen, dass die VMWORLD 2010 in Kopenhagen eine ganz andere Qualität hat. Man hat den Eindruck, man befindet sich im Moscone Center in San Francisco. Das Bella Center passt ausgezeichnet zu einer derart frequentierten Veranstaltung!
Das Ganze startet mit einer Videoeinführung "What is a Cloude" ein wenig MATRIX mit der Botschaft "The Cloude is a Construct of the Mind" 😉
Maurizio Carli – ein imposanter Auftritt –
Paul Maritz präsentiert beeindruckende Zahlen. Die virtuellen Systeme haben die installed Base der physikalischen Systeme um ein Vielfaches überholt.
Die Message lautet: the OS (Linux and Windows) controls no longer the Hardware! Der Hypervisor ist der Focus für Innovation in der IT.
Einer der Schwerpunkte in der Virtualisierung wird die Enhanced Security neben der Automation und des Managements von Compute, Storage und Networking sein. Der Weg wird uns zum Virtual Datacenter mit Virtual Apps in der private Cloude führen.
Die Kopplung von private Cloude mit Service Provider Cloudes wird zukünftig die große neue Infrastruktur von Unternehmen bilden. In derartigen Infrastrukturen spricht man von Hybrid Clouds, die sich aus vorhandenen und neuen Enterprise Apps bilden.
Die neuen Application Platforms basieren auf Management, Common Services und neuen Open Frameworks und Tools.
Die new App Platform umfasst existing Apps, new Enterprise Apps und SaaA Apps.
Ein neues Bewusstsein beim End-User ist entstanden. Nicht zuletzt dadurch, dass Apple 3.000.000 iPads in den Markt gebracht hat. Die Challenge here is Access and Management of multiple Devices.
Soweit zu Paul Maritz – CEO, VMWare
CTO – Stephen Herrod eröffnet mit "The virtual Giant" Für die existierenden Apps, die den virtuellen Giganten oder den Big Cluster bilden, bedeutet das, dass neue Technologien für das Management erforderlich sind.
Die Schlagworte hier sind Pooling, Elastic Resource Scheduling, Policy Driven SLAs und Array Integration – wie z. B. vStorage API and open interoperable.
Das Management des virtual Giant kann z.B. mit iPad on any time and any place erfolgen!
… und nach der Pause geht es in den ersten Breakout Sessions weiter. Bis später.
(guba – gb@anmax.de)